High Security Gun Cabinets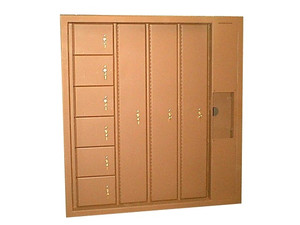 Heavy-duty gun cabinets for law enforcement and enhanced security areas provide integrated protection for pistols, rifles, and shotguns. With numerous options available, our unique design features allow you to choose the gun safe configuration that works best for your facility. We also offer custom gun safe options for applications that require an exclusive design.
Fasco high security gun cabinets for police and law enforcement facilities are manufactured from 10 gauge heavy duty all welded steel, providing enhanced shelter for a wide selection of firearms. As an added benefit, our heavy-duty gun safes are designed for both indoor and outdoor use, without having to sacrifice security or structural integrity.
High Security Gun Cabinet Solutions
At Fasco, we manufacture our heavy-duty police gun cabinets to your facility's exact specification requirements. Our exclusive design options allow for the implementation of high security gun safes that conform to your firearm protection needs. Additional advantages include:
10 gauge all welded steel construction
Individual compartments & master front door
Available in any number of pistol lockers or rifle vaults
Outdoor preparation options available
Also available in stainless steel
Heavy-Duty Police Gun Cabinet Options
Fasco offers three exclusive heavy-duty gun cabinet options for law enforcement facilities to accommodate your firearm security requirements. All our high security gun cabinets are manufactured from premium quality 10 gauge all welded steel, with pricing options to suit a range of budgets.
Once you've decided on the high security gun safe that is right for your facility, we will work with you to provide a seamless procurement and delivery process.
The FGC-700 is designed to store up to six pistols and one rifle with custom options available. This heavy-duty gun safe features all welded construction and is individually keyed and master keyed for ultimate security. The powder coat finish provides enhanced protection of the steel substrate for years of continued use.
The FGC-700 six pistol/ 2 rifle heavy-duty firearm security cabinet is manufactured from premium quality 10 gauge steel and provides enhanced storage space over the FGC 700-6-1. Like all Fasco high security gun cabinets, the FGC-700-6-2 can be prepped for use in outdoor applications.
This roomy, heavy-duty firearm cabinet can house up to twelve pistols and two rifles and features a powder coated finish for extended life and premium wear and tear protection. This locker is also individually keyed and master keyed for ultimate security and protection.
If our standard high security gun cabinets do not work for your facility's design requirements or you prefer another type of configuration for your firearms, we can work with you to design based on your facility's exact and specifications. To learn more about our custom options,
get in touch with our sales team
or
request a quote
today.
Fasco Security Products for High Security Gun Cabinets
We supply heavy-duty firearm cabinets in many standard sizes, or we can custom manufacture a high security gun cabinet that suits your application requirements.
Contact us
to discuss all the available custom options for your high security gun safe including outdoor prep and size options.